This article will walk you through the process of transferring your license to a different computer. Note that if you have an Enterprise Standalone License, you can transfer it as many times as you want. Because the Desktop Standalone License is intended to reside on a single computer, it can only be transferred up to 6 times per year. 
Follow these simple steps to transfer your Standalone license to another computer.
Return the License
On the computer that you want to transfer the license from, follow these steps:
1. In GoldSim, click on the "Help" menu and select "Licensing..."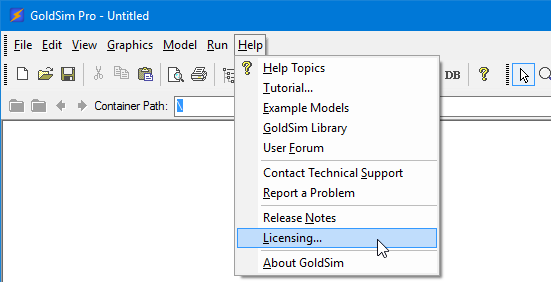 2. From within the GoldSim License Manager, click on the "Copy" button and paste the Activation ID into a place where you can find it again.

3. Click on the "Return..." button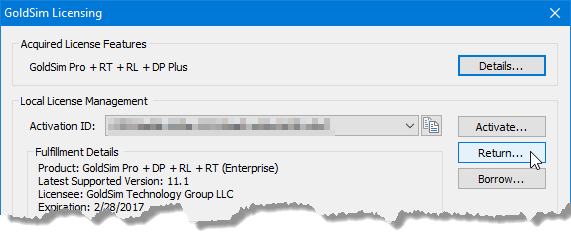 4. You will be prompted to confirm the license return. Click "Yes" to confirm.
5. After the return process is complete, you should see a message indicating success. Click the "OK" button to return to the License Manager window then close GoldSim.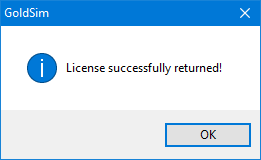 6. You should see that GoldSim is now operating in a restricted mode as indicated in the title bar of the window.
7. Notify the user of the other computer that the license is now available to activate on their machine and provide them with the activation ID that you previously copied in step 2 above.
Activate the License on the Other Machine
The user on the other computer will now activate the license following these next steps:
1. Start GoldSim and click on "Activate Standalone License"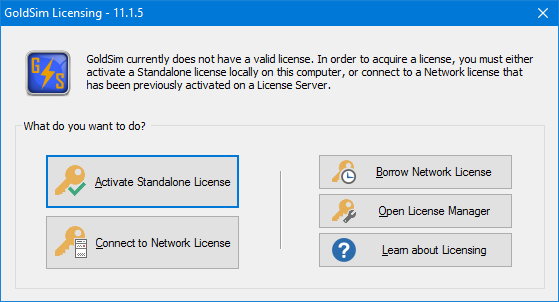 2. Paste the Activation ID that was sent to you and click the "Activate" button.

3. You should see a message indicating that the activation was successful.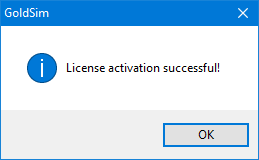 Note: If you are not sure what machine the license is currently fulfilled on, you can use the License Portal to find out what computer a license is currently activated on by following the steps outlined in this article.