Problem:
License activation is not successful. When trying to activate your license, you get this error message:
GoldSim was unable to activate the license! The Flexera Licensing System generated the following error:




Error: communications error (id=3). Unable to connect to server https://goldsim-fno.flexnetoperations.com/flexnet/services/ActivationService




Would you like to see the full error log?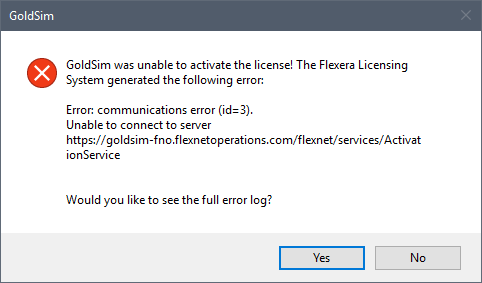 Click "Yes" on that window and you might see a message like this:
Server https://goldsim-fno.flexnetoperations.com/flexnet/ services/ActivationService, comms type SOAP




Status: 4, Creating request




Status: 5, Request created




Status: 6, Context created




Status: 0, Error




Error: API function 60041 failed, result 51404




Error: Unable to connect to server https://goldsim-fno. flexnetoperations.com/flexnet/ services/ActivationService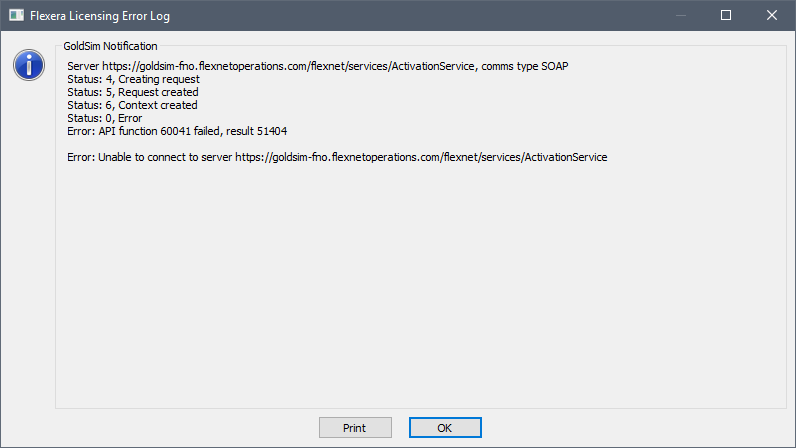 Cause:
This error (failing activation) is likely caused by one of these scenarios:
This computer does not have adequate access to the Internet
There is a firewall, antivirus, or other security setting on your computer or the IT infrastructure of your organization that blocks GoldSim from making an https request (required for online activation)
There is a problem with the Flexera Licensing System (not your problem)
Troubleshooting Steps
To troubleshoot, follow these steps:
Test your Internet connection by starting a web browser and visiting a website

If you are successful here, continue to the next step
Otherwise, fix the connection issue or consider performing an Offline Standalone Activation

Test for a slow Internet connection by trying the activation a second time: Activate a Standalone License. If you still are not able to activate, continue to the next step.
Enter the following website URL in a browser on the same computer

This URL should open Flexera's ActivationService page, as shown in the screen capture in Figure 1. If you do not see this page, skip to step 4. Otherwise, skip to step 5.

Check the status of the Flexera Licensing System by navigating to this page: Flexera's Status Dashboard showing the current status of the licensing system. A screen capture (Figure 2) shows the dashboard and where to check the status.

Hover the mouse cursor over the last bar on the far right. A tooltip will appear with a message indicating the current status.
If the status indicates no downtime, then continue with step 5
Otherwise, there is a good chance that there is an outage on their end. Please wait a few minutes and try activating GoldSim again. Their outages are usually very short.

Check to see if there is a security setting set by your organization that is blocking GoldSim from sending a request to the activation service website.

Contact your local IT administrator to check their network security settings
Hopefully, they find a setting that allows for GoldSim to make this request over the internet

If all else fails, please contact us.
Figure 1 - Activation Service Web Page
The following web page should be displayed when you browse to Flexera's ActivationService Page:

Figure 2 - License Activation Service Status Dashboard
There is a small chance Flexera's licensing website is temporarily experiencing an outage. In this case, you might experience this connection error. To check on the status of Flexera's licensing website, go to the Flexera System Status Dashboard and look under the section called, "Flexnet Operations ALM Production".