As of February 2016, GoldSim Technology Group transitioned to a new software licensing system based on Flexera's FlexNet Publisher technology. Going forward, all future GoldSim product versions require a FlexNet-based license. In addition, full support of the new licensing system is added to the following existing GoldSim products: GoldSim 10.5 (starting with Service Pack 6), GoldSim 11 (starting with Update 8), GoldSim 11.1 (starting with Update 4). The following information applies to all FlexNet-based GoldSim products.
The GoldSim License Portal enables you to view information about all Flexera enabled licenses within your organization from a web interface. At the top of the Portal, you will see 3 main menu options:
License Activation: View activatable entitlements (licenses that are available for activation)
License Support: View fulfilled licenses (already activated on a machine)
Users & Orgs: View portal users and administrators in your organization
There are 2 types of people that will use the portal:
Portal Users
Portal Administrators 
Portal users have the ability to view activatable entitlements and fulfilled licenses for the entire organization. A user can determine what licenses might be available for activation and copy the activation ID to activate a license on their machine. A user can also determine the computer name on which a license is fulfilled.
Portal administrators have the additional capability of viewing, creating, and managing all other portal users and administrators within the organization. Administrator(s) are designated within your organization as someone that manages the licenses. 
In addition to viewing license information, portal users and administrators can perform offline activations and returns in the rare chance that the machine using the license doesn't have internet access.
In order to enter the portal, you need to obtain login credentials from your portal administrator. When you first login to the site, you will see the list of "Activatable Entitlements" in your organization, which are just the licenses that are ready to be activated. If you don't see any items listed on this page, it means all of your licenses have already been activated.
In order to see a list of in-use licenses, click on the "License Support" menu option and select "Licenses".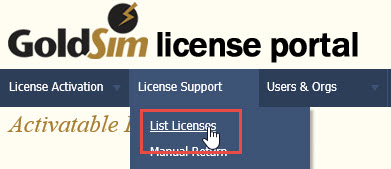 To return to the list of activatable licenses, click on the "License Activation" menu and select "Activatable Entitlements".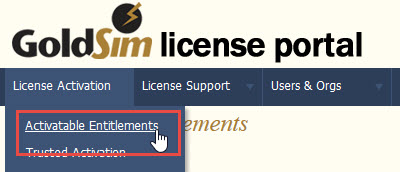 Detailed Instructions For Portal Actions
Click on a link below for detailed instructions on carrying out specific actions within the portal.
 Download the GoldSim License Portal Documentation as a single document.