This section describes how to activate a GoldSim Standalone License. The instructions below assume that you have an internet connection on the computer where you have installed GoldSim. If you do not have an internet connection, refer to Offline Activation. To activate a network license, refer to Activate a Network License.
Follow these instructions to activate a license:
Copy the Activation ID to the clipboard

The ID has this format:

XXXX-XXXX-XXXX-XXXX-XXXX-XXXX-XXXX-XXXX

To avoid errors, rather than typing the Activation ID in by hand, it is suggested that you copy your Activation ID to the clipboard.

Start GoldSim. Since the license is not yet activated, you should see the following dialog:
Click on the Activate Standalone License button.
You will see the following activation dialog:
Paste the code into the Activation ID field:
Click the Activate button.
You will momentarily see a progress dialog while GoldSim carries out the activation.
If your license activation was successful, you will see the following message dialog:
When you click OK, GoldSim should open.
If you received an error during these steps, please have a look at the common errors listed below to see if anything matches your issue and try to resolve it.
Common errors encountered when attempting license activation are described in the following articles. If you encounter an error during the activation process, please have a look at the following articles to see if any of these match your error and see if the solution provided helps you. If not, please let us know.
If none of these help, please submit a support request by clicking here.
After successful activation, you can check your license details by selecting Help|Licensing… from the main GoldSim menu. This will open the GoldSim License Manager: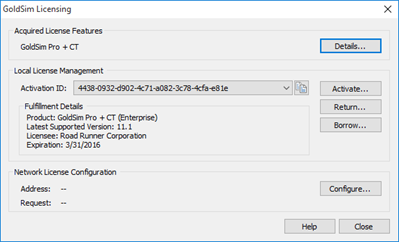 In this dialog, you can see details about your license. The middle section, Local License Management, displays your Activation ID, the Product name, the Latest Supported Version, the Licensee organization and the Expiration date of the license. Although GoldSim licenses are perpetual, they still expire (typically after one year) and must be re-activated annually (at no charge). GoldSim will send reminders to your License Administrator several months prior to the Expiration date listed in the dialog.