There is a chance one of your toolbars could be detached from the main GoldSim application window. In some cases the user may lose the toolbar after undocking and dragging it to another location out of view. This article describes two methods for recovering a lost toolbar / menu from the GoldSim application window.
Method 1: Check the box
As shown in the below figure, the Standard toolbar is missing.

One reason the toolbar disappeared is because the toolbar has been deactivated. Follow these steps to reactivate the missing toolbar.
1. Right-click in the toolbar region, and click the deactivated toolbar title to show a check next to the toolbar name.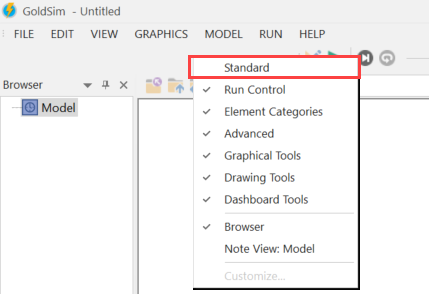 Method 2: Restart GoldSim and Find Menu Bar
Another common way a toolbar disappears is by undocking the Menu Bar from the GoldSim application and dragging it out of view, as shown in the below figure. Note, in this case the toolbar is moved to a place that causes it to disappear from view. The user cannot find the toolbar because it got saved to a location outside the current display extents. This could happen for various reasons. One of these might be a user with two monitors switches to a single display.

Follow these steps to reset the configuration of menu/tool bars:
1. Make sure all instances of GoldSim are closed.
2. Minimize all open programs on your computer so you only see your desktop background.
3. Open a new instance of GoldSim.
4. Closely examine the outer boundaries of your monitors for a small section of the menu bar.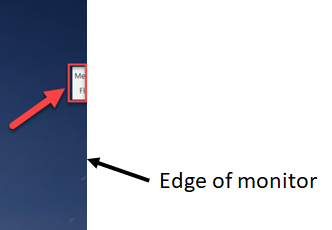 5. Drag the menu bar back into view.
NOTE: Method 2 assumes you are using version 12.1.5.