The purpose of this model is to demonstrate how a model can be organized to highlight influences that represent flows separately from influences that do not. In this model, a simple flow cycle is represented with loss from the system along with makeup water coming from an independent source. Source water flows into a tank and from this point, flows are allocated to various demands based on priority and demand. The demand for process water is highest priority and it is driven by the demand for water used for production (process demand). The demand for water is the average process demand plus the amount of water needed to fill the process pond.
This model can be viewed in 2 different ways: with non-flow type influence elements moved to a different container or with the non-flow influences included as part of the system schematic. This might at first appear to be a matter of convenience but can make a significant difference in more complex models that simulate many flow paths. Many flows in systems like this are demand-driven and therefore require that demands be made integral to the schematic but these same elements could confuse those reading the model that aim to understand the complex flow paths if the elements are shown with influence lines to other flow components.
By moving the elements that do not contribute actual flow links to the network to another part of the model, the user can provide a way for readers to focus on the flow schematic. This also allows the user to highlight elements of the model that are a function of the system's state such as the Process Pond volume in this model.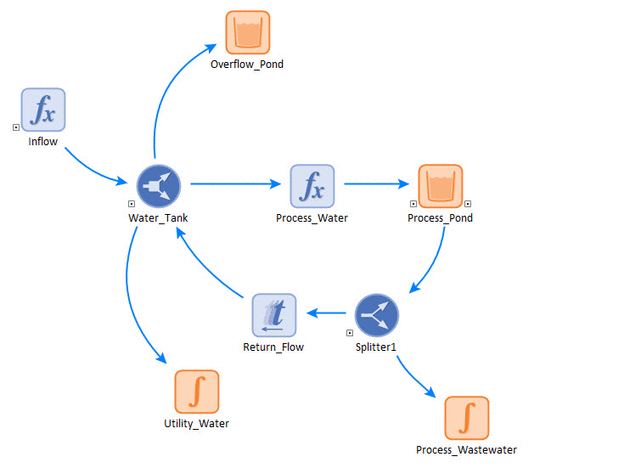 Download Model File: